Founder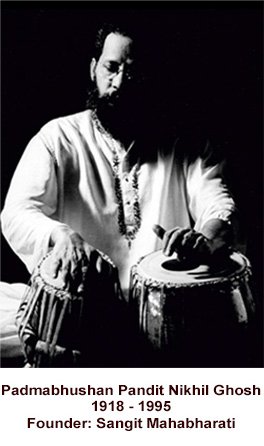 3rd March 1995 saw a patriarchal figure of Indian classical music and an outstanding visionary of the latter 20th century, Padma Bhushan Pandit Nikhil Ghosh passed away into eternal time. He not only was an internationally celebrated performer, an imaginative composer and profound Guru or Ustad, but also a prolific thinker, a revolutionary educationist and a distinguished author. An unusually warm human being, Pandit Nikhil Ghosh influenced the world of music by striking a perfect balance between traditional and progressive values.

Born on 28th December 1918, the life story of Panditji winds itself through eras of different traditional values amidst a myriad of circumstances: the unending rivers with the paddy plains of Bengal, through the busy streets of Calcutta, through the esoteric milieu of outstanding Ustads hailing from Uttar Pradesh residing in rows in one-room tenements at Grant Road, Bombay, through the upper echelons of European music world, through the international venues of music festivals, through the Departments of Music in American universities, back to the problems of day-to-day administration of a premier music academy which he fathered and nurtured. His constant companion through all those decades was hours of riaz unflinchingly observed daily till his last days.

He further broadened his musical perspective by training under legends like Ustad Ahmed Jan Thirakwa, Ustad Amir Hussain Khan and Guru Jnan Prakash Ghosh, in addition to the initial training he received from his erudite sitarist father Akshay Kumar Ghosh, his dhrupadia grandfather Hara Kumar Ghosh, Shri Bipin Chatterjee and Ustad Firoz Nizami of Kirana gharana. A little known fact is that Panditji was simultaneously a full-fledged vocalist and tabla player before he opted exclusively for the latter. His close association with Ustad Fayyaz Khan, Ustad Mushtaq Hussain Khan, Ustad Abdul Wahid Khan, Ustad Aman Ali Khan, Pt Omkarnath Thakur, Ustad Bade Ghulam Ali Khan, brother Pannalal Ghosh and Ustad Amir Khan gave his vocalism a rich texture and an immensely vast repertoire, that had the stamp of an acknowledged Ustad.

Nikhil Babu or Dada as he was popularly known, was a charismatic performer who enriched concerts with his dynamic and richly musical tabla solos and sensitive accompaniments. He had performed with four generations of some of India's finest luminaries ranging from Ustad Fayyaz Khan, Ustad Hafiz Ali Khan, Ustad Allauddin Khan and Pt. Omkarnath Thakur to Ustad Bade Ghulam Ali Khan, Ustad Amir Khan and his elder brother Pannalal Ghosh to his contemporaries Ravi Shankar-Ali Akbar Khan-Vilayat Khan, Bhimsen Joshi to his junior colleagues like Nikhil Banerjee, Pandit Jasraj, Salamat Ali-Nazakat Ali, Amanat Ali-Fateh Ali, Amjad Ali Khan, Rais Khan, Shiv Kumar Sharma right up to his brilliant sons Nayan and Dhruba Ghosh. However, during the last three decades of his life, Nikhil Babu gradually inclined exclusively towards solo performances.

He was regarded as an absolute authority with the repertoire and stylistics of the Delhi, Ajrada, Farukhabad, Lucknow and Punjab schools of tabla and was among the most prominent soloists of his generation. In fact, Panditji's aesthetic style and knowledge of the art influenced a whole generation of younger tabla players. His solos were often unique for their themes on gharanas, composers or jaatis (chhand or metric scansion of the tabla). While he would captivate his audiences with stormy and powerful executions, the mesmerising effect at the same time that his velvety touch could create would sway his listeners into a musical ecstacy. One can get a glimpse of these in his published recordings under the HMV in 1974 and UNESCO Paris in 1978.

Nikhil Babu was not content with the musico-social image given to tabla players of his time and along with a few of his contemporaries made it a point to change this. This intense struggle directly improved the status of all subsequent tabla players.

On the international front, he was India's first tabla soloist to be invited to the prestigious music festivals of Aldeborough and Edinburgh in 1958, Bratislava in 1980 and 1982, Helsinki, Rome and Athens in 1985 and the UNESCO Paris in 1978. In 1974, he formed the group TRAYA along with his two sons Nayan and Dhruba. The trio performed, recorded, lectured and taught extensively at renowned universities across Europe, U.K., U.S.A., Canada, Australia and the Far East till 1985, receiving acclaimed critiques and reviews in the New York Times, Frankfurter Allgemeine, the Tribune de Geneve, the Village Voice of New York, the Sydney Morning Herald, The Age, The Kansas City Times and so on.

Through his extensive international travels, Panditji developed a close rapport with musicians like Yehudi Menuhin, Benjamin Britten, Larry Adler and Paul Robeson in the fifties, then Louis Armstrong, Duke Ellington and Dave Brubeck in the sixties, and Mstislav Rostropovich in the eighties.

A composer par excellence, his tunes from Hindi films like 'Parineeta', 'Gopinath', 'Shamsher' and 'Samaj' and many other popular recorded renderings by legends like Lata Mangeshkar, Asha Bhonsle, Geeta Dutt, Hemant Kumar, Manna Dey, Sandhya Mukherjee, Lakshmi Shankar and Nirmal Aroon are hummed by many even to this day.

Nikhil Babu envisioned music beyond mere entertainment and a medium to support powerful social causes. To this extent, he pioneered the concept of staging musical shows to raise funds for national causes. A little known fact of his life was his contribution to mobilizing significant funds for the East Bengal refugee-relief after India's partition, by organizing concerts of his colleagues from the classical music world and the Indian film industry.

As a music educationist, he brought about revolutionary systems of effective music training for mass education and professional coaching through his 'teachers-training programs' successfully implemented at SANGIT MAHABHARATI, which he founded in 1956 in Mumbai. This academy soon gained eminence as one of India's premier music-teaching and research institutes. He had improved upon the then-prevailing notation systems by conceiving the 'major-minor consonantal system' that resulted in his book 'Fundamentals of Raga and Tala with a New System of Notation' (1968). As a corollary to supplement this work, he had even earlier in 1960, devised the 'Manuscript Book' to enable easy and quick notation that would include instrumentation. Today this system of notation is widely used all over the world. With the absence of properly codified and objective information on music and musicology, especially for young music aspirants, he embarked in 1961 on an uphill task of documenting and compiling India's first Encyclopaedia, which would provide extensive information on biographies, ragas, talas, technical terms, history, instruments, gharanas and lot more. He succeeded in involving many reputed scholars of his time into this project. Today his efforts of more than half his lifetime, has been rewarded with the magnum-opus being published worldwide as THE OXFORD ENCYCLOPAEDIA OF THE MUSIC OF INDIA.

Pandit Nikhil Ghosh trained his sons Nayan Ghosh in tabla, sitar and vocal music, Dhruba Ghosh in sarangi and daughter vocalist Tulika Ghosh, shaping them into some of India's finest artistes today. Among his other notable disciples have been the late Govindarao Parsatwar, Kartick Chandra Ghosh, Eknath Pimpale, Purushottam Paradkar, Datta Yande, Karodilal Bhatt, Gurudas Kamath, Michel Delaporte (France), Gert Wegner (Germany), Keith Manning (Australia), Bhadraksh Munshi, Aneesh Pradhan, Aslam Hussain Khan, Rashid Mustafa, Shiv & Ravi Naimpally and Ashish Ghosh.

Among several awards and accolades he received in his lifetime, Nikhil Babu was honoured with the Padma Bhushan in 1990 and the Ustad Hafiz Ali Khan Award in 1995.

In 1955 Nikhil Ghosh married Usha Nayampally who selflessly stood by him in all his endeavours. Her unstinted support and active participation have played a significant role in his success.

Padma Bhushan Nikhil Ghosh's immense vision and the will power to execute upon that vision set him apart from the musicians of his time. He had embarked upon journeys that were never travelled, only to pave the way for generations to come.