Projects
MUSIC ENCYCLOPEDIA - PUBLISHED: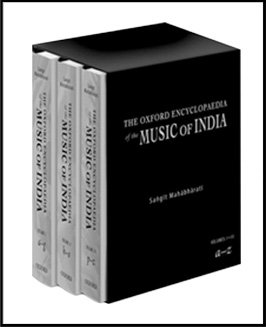 Sangit Mahabharati's Music Encyclopaedia project, initiated in 1961 by late Pandit Nikhil Ghosh, as it's Chief Editor for over three decades, and thereafter under the focused direction of its Executive-Editor, Dr. S.D. Pillai, and contribution of around 300 scholars world-wide, has now been published under the Oxford University Press Series, with the title THE OXFORD ENCYCLOPAEDIA OF THE MUSIC OF INDIA as a three-volume set.

Major topics in the Encyclopaedia include:
. Forms of music (Hindustani and Karnatic)
. Raga and related topics
. Talas
. Technical terms
. History
. Gharanas
. Prominent durbars of princely states
. Musical instruments
. Personalities
. Texts and treatises
. Folk Music
. Music of traditional theatres (with religious themes)
. Music of regional folk stage-arts
. Music and dance
. Music in contemporary drama and films
. Devotional music
. Institutions
. Aspects of the music of neighbouring countries
The Oxford Encyclopaedia of the Music of India, compiled by Sangit Mahabharati is a landmark work in musicology which is the first-of-its-kind in the world.

Project Founder and Chief Editor – Late Padmabhushan Pandit Nikhil Ghosh
Executive Editor – Dr. S. Devadas Pillai
BUILDING-COMPLEX:

Sangit Mahabharati is presently housed since 1976 in a three storeyed structure in Mumbai's prestigious Juhu-Vile-Parle Development (JVPD) Scheme at a prime location, where the junction on the artery road leading to the northern suburbs is also known as Sangit Mahabharati Chowk.  The foundation stone for the building was laid in 1969 by the Mt. Everest of Tabla Ustad Ahmed Jan Thirakwa. Over the years SMB has been visited and blessed by some of the legendary personalities from the world of music, dance, drama, literature and spirituality. The present premise is part of an envisaged six-storeyed academy wing.  Also planned in the next phase of construction is a uniquely designed thousand-seater acoustically treated fan-shaped auditorium with flexible stage facilities which should serve ideally for concerts, philharmonic orchestras, ballets and other related performing arts. The entire complex when complete will comprise several classrooms, practice-cells, a comparative music section, library and archives, museum containing belongings and personal artefacts of great masters, a recording studio, laboratory for research in instrument technology, art-gallery, a jalsa-ghar for baithak performances (chamber concerts), auditorium and guest-rooms for visiting maestros and scholars.

ARCHIVES:

SMB's library is well stocked with rare manuscripts, books and journals in addition to a rich collection of photographs and information about great masters dating back to the 13th century. Besides, it has a huge collection of rare recorded performances and interviews of great masters, in the form of tapes, cassettes and films. Urgent attention needs to be drawn to the fact that the climatic conditions and salinity of Mumbai does pose a potential threat to the quality of the recordings and hence the transferring and digitising of priceless audio-visual information and the reconstruction of a fully air-conditioned archive acquires utmost priority.